Summer 2021 New Releases
May 1, 2021
Welcome to the release of our Summer 2021 wines. These new wines represent a variety show for your palate. Each is wildly different and gives you the ability to pull a bottle for every occasion.
Our white wine is the ultra-expressive 2020 Sauvignon Blanc from the Kick Ranch—a vineyard treasured by many North Coast winemakers. Bright, aromatic and, with steal-your-face acidity, it's the perfect complement to grilled prawns or Thai noodles.
Our 2019 Carignane makes a fantastic pairing as well. You'll want this at your side as you light the grill with friends. Baby back ribs or flank steak never washed down so well.
Rounding out the release is our 2019 Bricoleur Vineyard Pinot Noir from Russian River Valley. This new bird in the flock is loaded with texture, fruit and spice. We're very excited about its potential as it develops in bottle.
Continue below for the new wines for Summer 2021.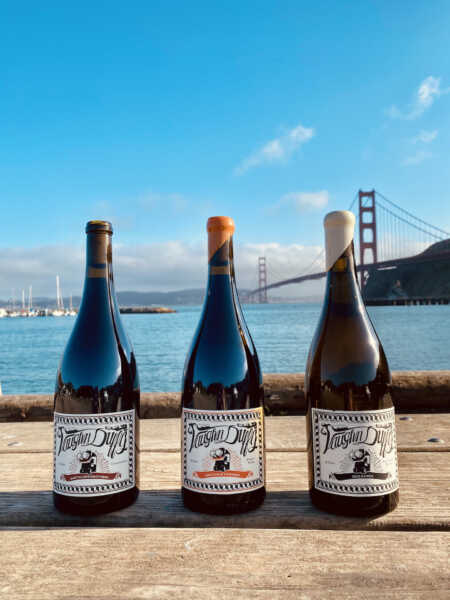 2019 Pinot Noir Bricoleur Vineyard Russian River Valley ($50)
Bricoleur Vineyard is a sustainably-farmed vineyard located in the Middle Reach neighborhood of the Russian River Valley AVA. This area benefits from a diurnal climate, meaning it gets a bit more heat than other areas of the AVA but is still coastal enough to benefit from cool mornings and nights. 
The 2019 vintage will be remembered for ideal growing conditions through summer and into harvest. After a bumper crop in 2018, the 2019 yields were more normal. We had cool weather at harvest allowing us to hang fruit for optimal flavor development without excessive ripeness. The wine was aged for 17 months in French oak barrels. We selected our three best barrels from the lot to craft this wine.
Aromas of black cherry, clove, cinnamon spices and roasted espresso. On the palate the wine shows fine grain tannins, saturated fruit flavors and bright acidity that indicates long-term cellar potential. The flavors of cherry, rhubarb and cola lead to a long, silky finish.
2019 Carignane Bartolomei Brothers Vineyard Mendocino ($28)
The grapes for our Carignane are sourced from the Bartolomei Brothers vineyard just outside of Ukiah in Mendocino County. A multi-generational farming family, the Bartolomeis planted the vineyard 80 years ago and it is now farmed and managed by two brothers, Rory and Vincent. The vines are head trained and tall—some up to eight feet. 
Ripening progressed faster than in 2018 and we picked our Carignane in mid-October instead of the first week of November like the previous year. For a slow-to-ripen grape like Carignane, the warmer fall weather was a welcome push to get the grapes to full physiological ripeness. 
Our 2019 Carignane boasts a flavor profile of juicy fruit and bright acidity, making it an ideal food wine. It smells like Valentine's Day – lots of roses and chocolate. The acidity pops the palate and leads to fresh red fruit flavors of cranberries, Bing cherries and raspberries. The tannins are persistent but polished, providing a gentle texture that gives the sensation of warm flannel sheets on a cold winter's eve.
2020 Sauvignon Blanc Kick Ranch Fountaingrove District ($36)
Kick Ranch is located in the Fountaingrove District AVA of Sonoma County. This mountainous vineyard lies on the western slope of Spring Mountain in the Mayacamas Mountain Range. It is composed of volcanic and rocky soils which creates a dynamic setting for a diverse collection of Rhone and Bordeaux grape varieties. One of those is the Sauvignon Blanc we sourced in 2020. Our block of Sauvignon Blanc is the ultra-expressive Musqué clone, noted for its profound aromatic presence and stone fruit flavors. 
Our Kick Ranch Sauvignon Blanc grapes were harvested at the end of August and whole cluster pressed upon arrival at the winery. The primary fermentation was done with a selected yeast strain in older French oak barrels. The wine did not go through malolactic fermentation and rested in barrel and on the lees for four months before being bottled without filtration. 
Our Kick Ranch Sauvignon Blanc offers vibrant aromas of jasmine, orange blossom, and lemon zest. On the palate the wine enters with juicy acidity and follows with a broad mouthfeel and subtle creaminess. The flavors of key lime, honeydew melon and white peach compliment this refreshing wine. This would be an ideal summer pairing with grilled peaches, grilled prawns or a cold Thai noodle dish.