TASTE WITH US
If you're looking for an authentic wine-tasting experience in the heart of California wine country, look no further than our tasting room in Kenwood. Our charming and welcoming tasting room offers the perfect atmosphere to indulge in Pinot Noir & more. Whether you're a seasoned wine connoisseur or just starting to explore the world of wine, we can't wait to share our passion for wine with you!
Tasting Room Hours:
Friday – Sunday: 12:00pm – 5:00pm
Monday & Thursday: By Appointment Only
Tuesday & Wednesday: Closed
8910 Sonoma Highway
Kenwood, CA 95452
707.282.9156
info@vaughnduffywines.com
Please email or call if you have any questions.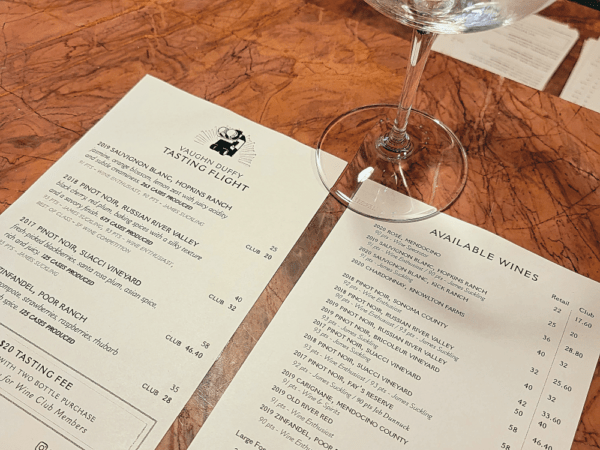 Seasonal sampler
$20 per person
one fee waived with two bottle purchase
For those who enjoy a bit of everything, this is the flight for you! Enjoy four limited-production bottlings, including Sauvignon Blanc, Pinot Noir, and Zinfandel. Hand-crafted for you to enjoy, discover your new favorite with this tasting.
Available for groups of six or fewer.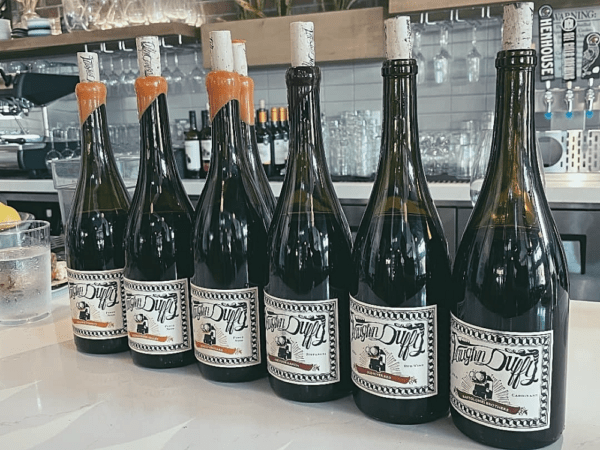 PURELY PINOT
$30 per person
one tasting fee waived with two bottle purchase
Enjoy this decadent tasting of four distinct Pinot Noirs from iconic Sonoma County vineyards. With each sip, you'll taste the diversity of this stunning varietal and savor the craftsmanship behind these limited-production wines.
Available for groups of six or fewer.

PINOT & PIZZA for two
$75 for Two
Highlighting the exemplary partnership between Vaugh Duffy Wines and delicious wood-fired pizza, this experience is sure to fulfill all your wants and desires. Perfect for two – this tasting includes one pizza of your choice and two tasting flights customized to pair with your pizza and preferences.
Available for groups of two.
Pizza Options:
Margherita, Veggie Delight, Mushroom & Sausage, Garlic Chicken,
Spicy BBQ Pork & Pineapple, Pepperoni, Cheese.
*Please note pizza selections and any dietary restrictions in checkout notes
Please Note: Experience must be reserved at least one day in advance. The total fee will be charged at the time of booking and is non-refundable. Reservations can be rescheduled with 24-hour notice. Experience will not be waived with wine purchases.